topsytail all in one styling
All in one styling! The Topsy Tail gives you the ability to effortlessly create an array of updo's, flip, wrap, twist, tie or twirl.
Easy to use and great for all ages and hair types.
---
style it. love it. snap it. share it.
---
Side Style
Pony Style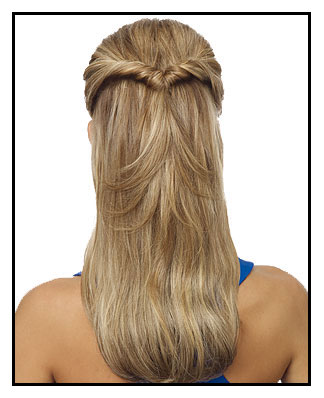 Half Up Style
There are sevaral styles you can create using the Scunci Topsy Tail, above are examples of 3 different styles, Side Topsy Tail, Pony Topsy Tail and Half Up Topsy Tail. For smaller styles such as the Side Topsy Tail where you are not using so much hair, use the Junior Topsy Tail, for other styles where alot of hair is used, use the normal Topsy Tail.
To create a look all you need to do is gather your hair into a pony tail and secure with a Scunci hair elastic - for the Pony Topsy Tail, do a low ponytail, for the Half Up Topsy Tail, do half your hair into a high pony and for the side Topsy Tail, gather the top side section of your hair.

Place the Topsy Tail, (loop side up) through the ponytail, behind the elastic and thread the ponytail through the loop.

Pull the Topsy Tail firmly down through the hair, making sure your hair is firmly in place.

other looks you can create using the Scunci Topsytail