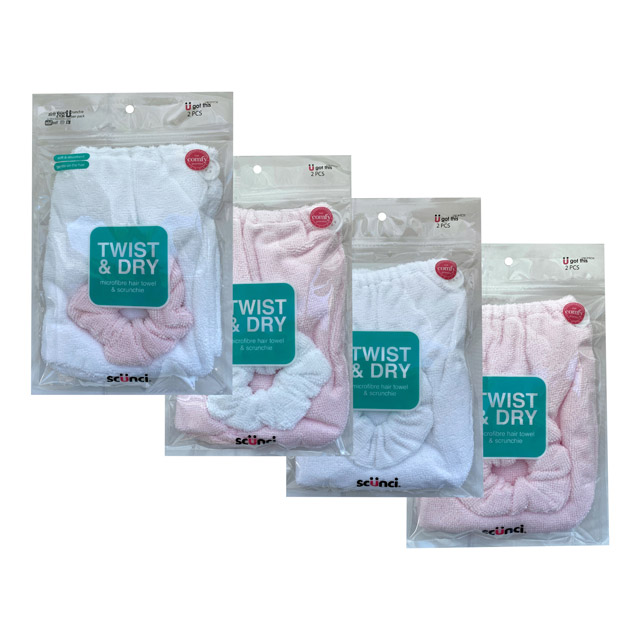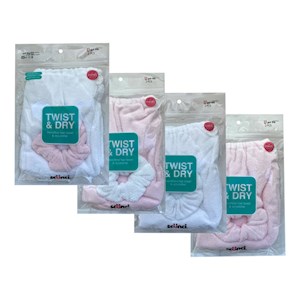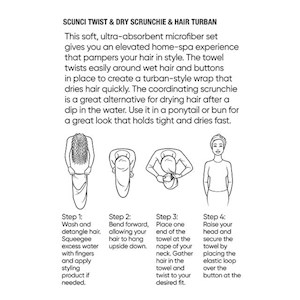 get the look
Twist & Dry Scrunchie & Hair Turban 2pc
RRP AU$14.95
Ditch those old, scratchy towels and get ready for the Scunci Super Absorbent Microfiber Fitted Hair Turban. This towel will protect your hair from harming friction caused by traditional cotton or micro-terry cloth fabric with a button closure to secure it tightly around your head while you dry off.
A helping hand in the bathroom
Wondering why a hair turban is better than using a towel?
Well for starters, wet towels are uncomfortable and can put unnecessary strain on your neck. Fortunately, there are alternatives! Hair turbans help make it easier for you to whip your hair up post-shower without the heaviness of a big towel.
Towels also move around when you're trying to dry your hair as they don't have elastic parts. So eventually they'll slip down over your forehead and eyes which makes doing skincare or putting makeup on a real pain!
Hair turbans are a great way to dry your hair quickly and easily. Regular towels do not wick water as well, so you can save time by using one.
Where cuteness and functionality become BFFs!
Available in a range of cute white and pink colour combos you'll be able to look super stylish whilst drying your hair.
Gone are they days of dreading washing your hair. You can now dry your hair in a flash and get it primed and ready to style without the headaches.
Wondering how hair turbans work?
So you know all the perks of using a hair turban over regular towels, now it's time to understand how they work.
First you'll need to take your hair turban and place it over the back of your head. A handy hint: it's sometimes easier if you bend over and have your hair hang away from your neck towards the ground.
Once you have the turban in place, just like you would with a towel, twist your hair up into the turban. Once you've secured all your hair within the twist, you can stand up straight and pull the twisted part to the top of your head and secure it using the scrunchie. Voila, easy!
Available @ Coles
SCSPA2AU