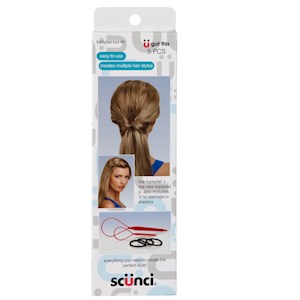 get the look
Topsy Tail
RRP AU$9.95
All in one styling with Scunci's Topsy Tail - an innovative hair tool that lets you effortlessly create an array of updo's, flips, wraps, twists, ties or twirls from the convenience of home.
Forget boring hairstyles, with Scunci's Topsy Tail you can style your hair with confidence to get gorgeous, red carpet-worthy styles with just one tool. Perfect for the busy girl on the go, without compromising style.
How to use a Topsy Tail
Topsy Tail is easy to use and versatile for all ages and hair types.
Here's a step-by-step guide on how to use Topsy Tail to create a twist in your ponytail:
Gather your hair into a ponytail and secure with an elastic
Insert the topsy tail behind the elastic in the middle of ponytail
Thread your hair through the loop, then pull the pointy part of the topsy tail down (through the loop) and behind the elastic band to get the perfect twist.
Prefer to watch it in action?
Check out this how-to style video on creating different hairstyles using the Topsy Tail.
Topsy Tail Updo Hairstyles
Embrace your inner flair-for-hair with endless Topsy Tail styles such as the low-ponytail to the half-up style, the tail braid or mini side topsy tail.
Need some hairspiration?
Check out these stunning hairstyles for you to rock!
Your Topsy Tail kit comes complete with a topsy tail, a junior topsy tail, and three elastics. Grab yours today!
Available @ Big W, select Coles and select Priceline
67580AU