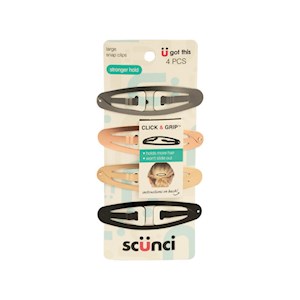 get the look
Snap Clip Click and Grip 4pc
RRP AU$7.95
It's not a regular snap clip, it's a COOL snap clip! Keep your hair out of your face and clip your hair back in style with our Snap Clip Click and Grip Clip. Perfect for the everyday girl on-the-go who needs a gorgeous style instantly.
Holds your style in place all day
Our Click & Grip snap clips feature a unique double snap, which makes this clip stronger than a regular clip. This clip is designed to hold your style all day long.
How to wear hair clips
The best part about hair clips? There are no limits to the way you can wear them. Whether it's a simple, sleek style, or a glamorous red-carpet worthy style - hair clips are versatile and practical.
One of our favourite hair clip styles is the chic side clip. To achieve this look, section one part of your hair from the side, and simply clip your hair back. This style is great for keeping your hair out of your face and showcasing your clip as a style centrepiece.
The next style we are totally crushing on is the messy bun with clip. To create this hairstyle, place your hair in a messy bun - and then just above the bun - place a clip.
Colour: Silver, Rose Gold, Gold and Black.
Available @ Big W
SC33523AU