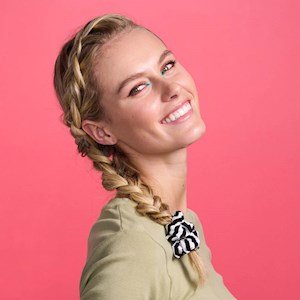 get the look
Scrunchies Mood 6pc
RRP AU$10.95
In the mood for a scrunchie? Our Scrunchies Mood 6pc puts a fun spin on the original scrunchie with new colours and fabrics for you to try. This pack will help you create new, fun hairstyles that will rock your world!
Colourful hair scrunchies, perfect to match any mood
Each pack has six completely different scrunchies to help you style your hair to represent any mood. Don't be afraid to be bold and express yourself!
Whether you are feeling flirty, cozy, active, casual or fancy, create the latest and most fabulous looks using a range of gorgeous coloured scrunchies.
Why scrunchies are better for your hair
Scrunchies are better for your hair than hair elastics as they prevent hair damage and breakage. Thanks to the additional layer of fabric on a scrunchie, scrunchies give an extra layer of protection that doesn't pull on your hair and cause damage.
So not only will scrunchies give you a fun, colourful style, they also work to protect your hair-it really is the best of both worlds!
Create head turning looks with the back in fashion colorful scrunchies!
The 90's trend of the hair scrunchie is back in fashion and here to stay. Create stunning, head turning looks and rock your pony with confidence with these scrunchies!
Available @ Big W
SC70351AU