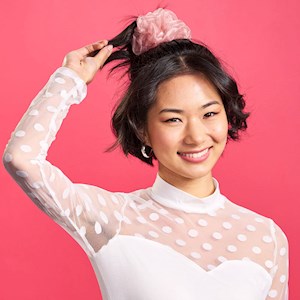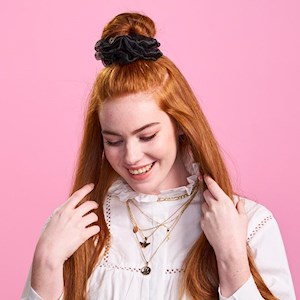 get the look
Scrunchies Glam XL 2pc
RRP AU$8.95
The 90's Scrunchies trend is back and here to stay. Scrunchies have become a go-to hair accessory for easy and comfortable everyday basics to high fashion looks with bigger sizes and new fabrics such as organza.
When you rock a hair scrunchie, you add that extra wow factor to your style.
Gorgeous scrunchies made from organza fabric
Organza is a lightweight, plain weave fabric. It's sheer look gives these Glam XL Scrunchies their gorgeous, on-fleek style. The transparent look of these scrunchies will add a feature point to any hairstyle you choose.
Great for all types of hair, especially thick!
For those girls with thick hair, we know it can be difficult choosing the right hair accessory that will actually hold in your hair. That is why we created our GLAM XL Scrunchies, ideal for those girls with thick hair or simply expressing your scrunchie style to the max.
Our GLAM XL Scrunchies are made with a thick hair elastic core for great stretch and hold, so you can be sure to lock in your style all day long with confidence!
Treat your hair to some scrunchie goodness
We often get asked, are scrunchies good for your hair? and the answer is YES! Scrunchies are great for your hair. Unlike hair elastics which damage and break your hair, scrunchies have a layer of protection with additional fabric that does not cause stress or breakage to your hair.
Forget boring, dull hairstyles and say hello to chic, fun hairstyles with our GLAM XL Scrunchies!
Available @ Big W
SC3508AU