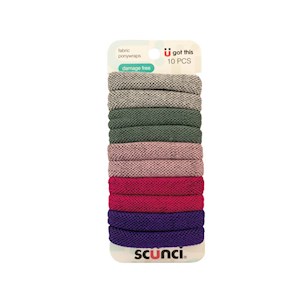 get the look
Ponytailers Fabric 10pc
RRP AU$9.95
Transform your style in seconds, with the latest and most fabulous looks using our Fabric Pony Wraps. Thick, soft and stretchy, our Fabric Pony Wraps hold like traditional elastic, but are kinder to your hair.
Similar to a scrunchie, our Fabric Pony Wraps do not cause hair damage like traditional hair elastic. Traditional hair elastics are rough and pull hair, causing hair breakage. We've designed our Fabric Pony Wraps to protect your hair while styling, without the pulling or breakages from traditional elastic.
Choose from a range of gorgeous colours
Choose from an array of gorgeous colours in our 10pc Fabric Pony Wraps: grey, pink, jade, fuchsia and royal blue. Be bold and express yourself with a splash of colour to complete your hair style!
Ideal for a high, low or messy ponytail!
No matter your style, rock your pony with confidence using these Fabric Pony Wraps. Whether you're looking to wrap your high ponytail to show off that colour with your outfit, or opting for the low or messy ponytail - style your hair like a pro!
Made strong so they're also ideal for thick hair. Now no matter your type of hair, you can create easy, head-turning pony styles today!
Colours: Grey. pink, jade, fuchsia & royal blue
Available @ Big W
SCE002AU