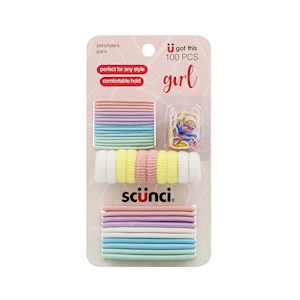 get the look
Ponytailer & Elastic Girl Pack 100pc
RRP AU$8.95
No matter your hair type, colour, street style or occasion; our Ponytailer Pack has you covered. With 4 different types of elastic to choose, express yourself and create fun, chic hairstyles with a splash of colour.
Our ponytailer pack offers a range of different ponytailers to perfect your style: regular hair elastics, skinny hair elastics, polybands and knit pony wraps.
Scunci hair elastics have been designed to care for your hair, so we guarantee you'll love wearing them.
Easy and fun ponytail ideas
When it comes to creating fun hairstyles, colour creates character! Add a pop of colour to accentuate your style with Scunci's colourful Ponytailer Pack!
Whether your stylin' a flattering high pony, the effortless low pony, or feeling the braided ponytail look; include a coloured hair tie to instantly add fun and character to your ponytail style.
Master your desired ponytail hairstyle
Choose from four different hair elastics in a rainbow of colour options. Mix up your look from flowing locks to a gorgeous upstyle in seconds!
Delight in the endless possibilities with Scunci's hair elastics.
Colour: Mixed
Available @ Big W
22795AU