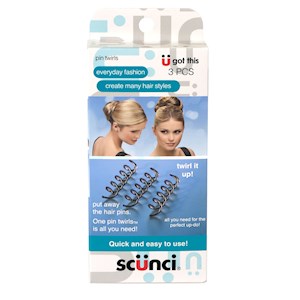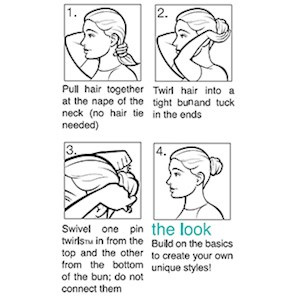 get the look
Pin Twirls 3pc
RRP AU$9.95
Twirl it up! Trade in your go-to daily styles for a hot new look with our Pin Twirls. Tired of using a million bobby pins and hair elastics to secure your updo? Struggle no-more and save precious time with our Pin Twirls. Hold your updo all day long with strong and secure Pin Twirls by Scunci.
Less is more, so say goodbye to the endless bobby pins and hair elastics cluttering your bathroom. Achieve it all with just three simple pins to transform your style and keep you looking great all day.
Hairstyles using the Pin Twirls
Our Pin Twirls are great for head-turning looks like the top knot, bun or french twist hairstyles. Want a gorgeous top knot or high bun? View our step by step tutorial here and style your hair with confidence.
How to use Pin Twirls?
Our Pin Twirls take the guesswork out of styling your hair. Here's how:
Style your hair into your hairstyle of choice
Insert Pin Twirl into your hair by twisting clockwise. When inserted correctly, your Pin Twirl slides-in with ease.
On the opposite side from the first pin, twist the second Pin Twirl into your hair. Continue with the third pin if necessary. It's important that you do not interlock the pins.
Transform your look and declutter your bathroom by saying goodbye to the endless stockpile of bobby pins and hair ties! Scunci's Pin Twirls save precious time styling that gorgeous look that you can trust to hold all day!
Colour: gold
Available @ Big W and select Priceline
67570AU