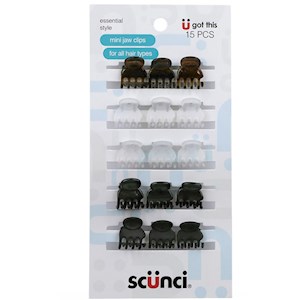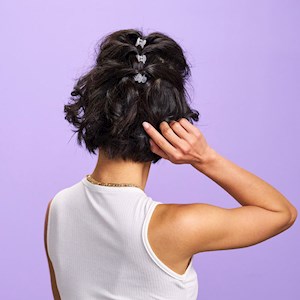 get the look
Jaw Clips Mini 15pk
RRP AU$7.95
Say goodbye to those pesky little fly-aways with our Mini Jaw Clips 15pk. Style your hair with confidence and hold strands in place all day while getting a gorgeous, head-turning hairstyle.
How to wear a Mini Jaw Clip
The beauty of our Mini Jaw Clips - they're versatile and can be worn to secure your fly-aways or create a chic, on-trend hairstyle.
Scunci Mini Jaw Clips are designed for easy, fast fashion. Simply open the clip and place - super simple and convenient! Mini Jaw Clips are optimal for holding and styling smaller amounts of hair, so it's recommended to avoid clumping hair together in the one clip.
Our Mini Jaw Clips aren't just practical, they're also adaptable, allowing you to hold your hair and style a stunning, on-trend hairstyle.
Here are a just a few of our favourite hairstyles you should try:
Mini Jaw Clip Hairstyles
A pulled back twist: section a strand of hair, twirl it, and then place a Mini Jaw Clip to hold back the twist. This allows for an effortless yet fabulous style.
A decorated plait: to create this style, plait your hair, and add a special touch by placing a few of the Mini Jaw Clips throughout the plait to give a fun, playful addition. The Mini Jaw Clips will look beautiful spread out in your plait, and give a pixie-like look to your style.
Sleek, high pony: place your hair into a high, sleek ponytail and with any fly-aways, secure them down with a Mini Jaw Clip. Choose from a variety of colours and clip on the side of your hair.
Colour: Mixed
Available @ Big W and select Coles
32160AU