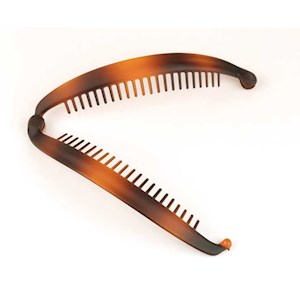 get the look
Banana clip 2pc
RRP AU$7.95
The gorgeous 90's trend of the Banana Clip is making a comeback, and looks here to stay. Forget boring, dull hairstyles, and say hello to the elegant, chic styles that you can create at home or on the go with just a Banana Clip!
How to use a banana clip
A banana clip is quick and easy to use. Now you get Hollywood worthy styles instantly, with just one clip.
To get the perfect banana clip style:
Comb your hair back, removing any knots or kinks. Gather your hair in a ponytail style without tying it back
Grab the open banana clip and place the base of the clip underneath your ponytail so the jaws of the clip open wide on either side of your ponytail. Ensure all your hair is now placed within the clip.
Close the clip by pressing it together, so it is holding your style in place, and secure it at the top.
How to use a banana clip on short hairstyles
Banana clips work great on short hair too and make an ideal must-have hair styling tool.
While banana clips may not hold all your hair in a pony style, we recommend a gorgeous half-up, half-down style using a banana clip.
To style your half-up, half-down look, follow the steps mentioned above, but style only the top half of your hair. It's easy, fun and fast. Lock in your style all day with confidence!
Colour: Matte black and matte tortoise
Available @ Big W and select Priceline
SC1990AU